The SILVERengines NEWS  –
Subscribe Today
! Now you can
subscribe to our newsletter
!
---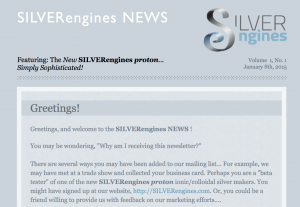 Once in a Blue Moon (
almost never
more often than once per week!) we may send out useful and actionable news about the latest goings on here at
SILVERengines
. We
promise
:
We won't give or sell your information to anyone else!
We won't flood your inbox with mindless jabber. We'll only write to you when we think we have some reasonably important news!
We'll make every effort to provide you with valuable, useful content
The SILVERengines NEWS  – Subscribe Today!
---
"The content of this website has not been evaluated by the FDA. Nothing herein is intended to diagnose, treat, cure, or prevent any disease."
Copyright © 2014 to 2022 SILVERengines | Powered by Astra